ROBERTO
OLIVAN
Founder and artistic director
Demanding and meticulous to the bone, his passion for creating movement as a representation for the most ethereal and deep emotions marks his heartbeat.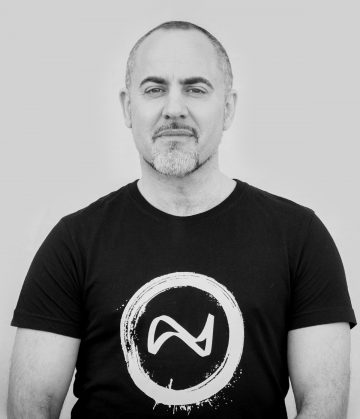 Roberto is an international creator who started his career at Institut del Teatre, Barcelona and P.A.R.T.S., Brussels. The Belgian capital was the key point that solidified his artistic career. After his time in Brussels, Roberto moved back to Spain and is now the artistic director and founder of ROPA / Roberto Olivan Performing Arts and Deltebre Dansa festival. ROPA was created in Brussels in 2011 and is currently based at l'Obrador - Espai de Creació (Deltebre), and Deltebre Dansa is an annual international event created in 2004 that takes place in Deltebre. 
He started working as a professional dancer at the well-known company Rosas, directed by Anne Teresa de Keersmaeker, and has danced under the direction of Robert Wilson, Tom Jansen and Josse de Pauw, amongst others. Roberto's international career is very versatile: apart from ROPA / Roberto Olivan Performing Arts's production, Roberto has been consolidated as a choreographer and dancer. He commissions for dance companies, universities, schools, conservatoires and dance centres from all around the globe, as well as within the cinema field.
In the teaching field, Roberto teaches and leads workshops around the globe. He has been the artistic director of many important cultural events and member of the jury at several dance contests. He has also taken part in sector-related meetings led by the Departament de Cultura de la Generalitat de Catalunya and is part of the Consell Assessor de Cultura de la Generalitat de Catalunya in the area of Terres de l'Ebre.
His work has been recognised internationally. Roberto has received the following awards: special mention in Premis de la Crítica 2019 (Catalonia), EFFE Award 2019 (Belgium), Premi Cultura Deltebre 2017 for Deltebre Dansa (Catalonia), Premi Nacional de Cultura 2014 (Catalonia), Ciutat de Barcelona 2013, Sebastià Gasch FAD Awards Of Paratheatrical Arts 2012 (Catalonia), Premi Cultura Deltebre 2012 for Deltebre Dansa (Catalonia) and Prix SACD de la Création Chorégraphique 2001 de la Société des Auteurs et Compositeurs Dramatiques (Belgium), and has been nominated for many other awards.